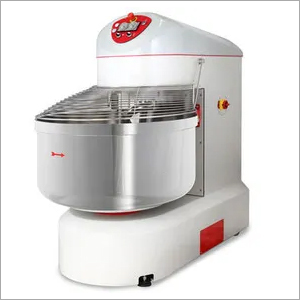 Double Speed Spiral Mixer
Product Description
We offer A-class Double Speed Spiral Mixer, which is widely used in food processing industry, bakery and allied sectors for mixing flour used in the preparation doughs. It comes with 440 volts 3 phase power supply only. With excellent flour capacity, dough capacity and power load, this mixer performs for longer period of time. There is stainless steel high capacity pan to meet your required mixing task. Its shock proof and sturdy structure allow operator to do vibration free and constant performance. Additionally, the Double Speed Spiral Mixer can easily be installed and used due its is dimensional accuracy and strong base.

Specification
| Flour Capacity(Kg.) | Dough Capacity (Kg.) | Power Load (HP) |
| --- | --- | --- |
| 60 | 90 | 5-7 |
| 90 | 130 | 7-10 |

Note:

We Also manufacture different "capacity of" spiral mixer "As on demand".
Power supply 440 volts three Phase "only".