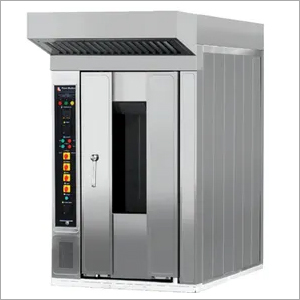 Electric Rotary Rack Oven
Product Description
We are the leading manufacturer of Electric Rotary Rack Oven in Ahmedabad, GUJARAT.
Electric Rotary Rack Oven is ideal solution for making buns, biscuits, rollers, rusks, breads, cookies and allied bakery items. This type of oven is easy to operate and highly demanded among our discerning customers for its low power consumption and greater efficiency. Well featured with compact enormous speed PLC along with touch screen and advanced servo motors & gear motors, the Electric Rotary Rack Oven is great for the preparation delicious bakeries.

Note:
1. We Also manufacture different "Tray size" Oven "As on demand".
2. Power supply 220 volts Single Phase or 440 volts three Phase "As per order".