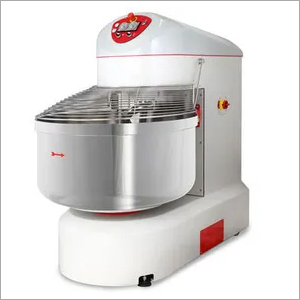 Single Speed Spiral Mixer
Product Description
We are putting forward Single Speed Spiral Mixer, which has power supply 220 volts single phase. It is made up of super capacity stainless steel pan along with sieve type cover, sharped edges mixing blades, control panel, ON/OFF switch and other components and parts that ensure its prolonged performance, sturdy construction, low maintenance, less power consumption and reliability. Its convenient functioning, anti-corrosive design and lightweight make this device ideal for food processing industry. Single Speed Spiral Mixer is engineered in several capacities and specifications for the selection of clients.

Specification
| Flour Capacity(Kg.) | Dough Capacity (Kg.) | Power Load (HP) |
| --- | --- | --- |
| 25 | 40 | 2.5 HP |
| 50 | 70 | 3 HP |

Note:

We Also manufacture different "capacity of" spiral mixer "As on demand".
Power supply 220 volts Single Phase or 440 volts three Phase "As per order".